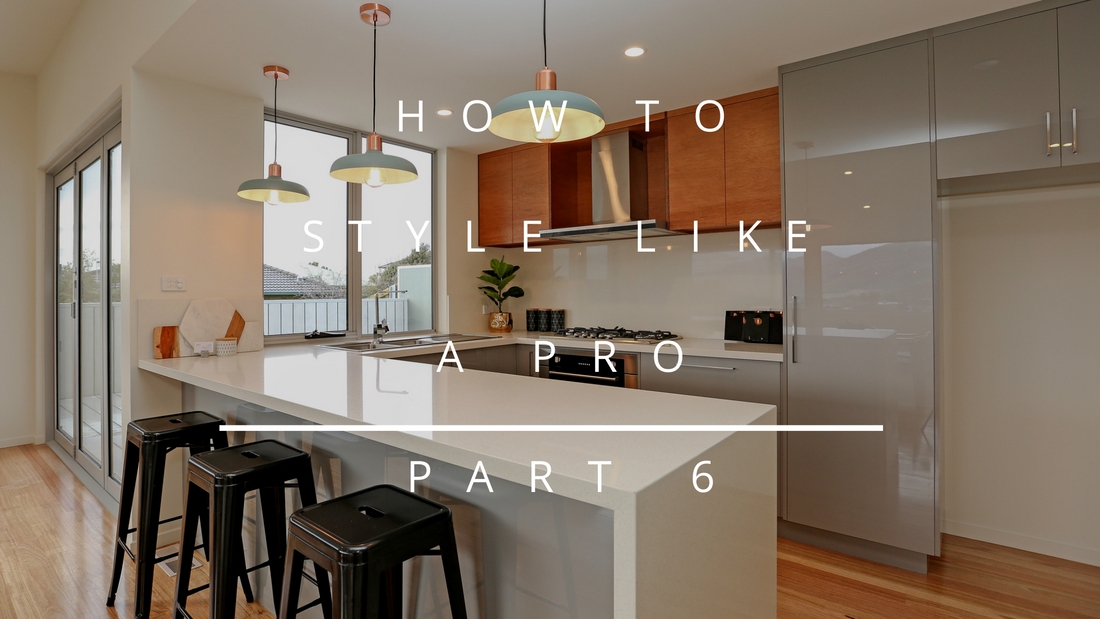 10 Sep

Style like a pro – part 6 – kitchens and bathrooms

You've all heard the saying "kitchens and bathrooms sell houses" so it's important to present this area as neatly as you would the rest of your home.

Whether you have a newly renovated kitchen or bathroom, or something that is in need of a facelift, you should ensure the space is kept clean and decluttered. Fresh is the key word here as these rooms need to be bright and presentable.

In the kitchen, simple styling with a plant or herbs, a bowl of fruit, some cookbooks and some neat crockery is enough to create an inviting, homely kitchen fit for sale. In the bathroom, nothing beats good quality towels and greenery to give it a lush and fresh look. 

If you were wanting to take your kitchen or bathroom facelift a little further, here are a number of easy and budget friendly tips that any DIY novice can have a crack at.
Cabinetry
Rather than splashing out on all new cabinets and drawer fronts, consider resurfacing the existing ones with spray paint. It's much better than painting with a brush which can cause blobs of paint to form in the groves or brush strokes to show. Simply unhinge the doors, take outside and give a light clean and sand and once the surface is free from dust and particles, spray then reattach once dry. Good as new!

Hardware
It's crazy how much of an improvement new door handles make to a cabinet. Usually all thats required is a screw driver and a bit of patience. Make sure the holes of the new handles match up with the old ones – a good idea is to take an old handle to the hardware store with you. When replacing the hardware, make sure you pick something that will give the room a clean, simple look and try to avoid anything too new and trend focussed that may fall out of favour with buyers very quickly. Most importantly, make sure the new screws are long enough to go through the thickness of your doors. Some manufacturers provide drawer handle breakoff (or snapoff) screws that can be simply snapped off at certain lengths to match your drawer width (there are some great videos on how to do this on YouTube, just search 'snapoff screws').
Bench tops
Replacing your bench top will breath new life into a dated kitchen. Bunnings have some cheap and great looking laminate and timber bench tops that are scratch and stain resistant. Make sure all your measurements are 100% accurate before you order a bench top that is cut to size! The below are examples from Bunnings:
Tiles
Why not breathe new life to those old tiles in your kitchen or bathroom? We quite often walk into homes where the tiles are quite old and dated, but expensive and time consuming to pull out and replace. But there is another option and that's tile paint. This product can make even the worst 80's era embossed floral tile come to life and completely freshen up the room. The tiles will need a good clean with the cleaner product before applying the primer.  A light sanding before applying the tile paint (White Knight has a great selection of products for the job) will ensure a smooth dust free surface at the end of the job. It's an incredibly cheap and effective transformation.
Powerpoints
Such a simple fix can have a great response from buyers. After a while, switches in your powerpoints start to crack or get kitchen grime in them. They can also discolour and start to look very tired. Replacing powerpoints with a newer style also makes the room feel like it has had a bit of a makeover. In the kitchen, why not consider a powerpoint with in built USB ports for recharging phones, after all, there are never enough charge points in a house.
Basic powerpoints start at around $15 but spend a little more for a quality, longer lasting product. The in bench tower system starts at around $50 for the unit.
Lighting
With so many cost effective lighting options available these days, updating your lighting in your bathroom or kitchen has never been easier. Cost effective lighting options are available from hardware stores and lighting shops, just make sure your new fittings allow for good light spread on important zones like preparation and cooking areas in the kitchen and the vanity in the bathroom. Simple oyster lights are a cost effective replacement for older single kitchen fittings or a rail system with adjustable lights is a handy way to cast light in multiple directions from the one unit. In the bathroom, check your extraction fan lights and replace where required.
Tapware
If you've got the old plastic tap handles on decaying metal fittings, then this is not going entice your buyers. This area of your kitchen and bathroom is a relatively quick fix with new fittings being more accessible than in years gone by. Avoid going too trend heavy in your replacements, instead, stick with a more classic line of fitting to avoid alienating any buyers. A simple tap set for a vanity will be around the $75 mark, spending more will get you a better quality fitting though. Mixers are around the $150 mark and look great in your kitchen.
In conclusion
Spending a small amount at sale time to fix any issues inside your home will net you a better return at sale time. Why? Because the buyer has to spend less to sit back and enjoy the home. If you are thinking about selling but are not quite ready yet, consider starting the above process early so you get to enjoy some of the new fittings while you are still in the home.
Shop around and check out pricing online, you may save a few dollars here and there and save some running around in the process.
Make sure any electrical or plumbing work is carried out by a licensed contractor to avoid damage to your new products, your home or more important, yourself.
Happy house styling!!
The Shift Team
For our other tips and more professional styling advice, check out our other blogs in this series here:
Style like a pro – part 1 – using cushions
Style like a pro – part 2 – living room furniture placement
Style like a pro – part 3 – styling up coffee and dining tables
Style like a pro – part 4 – the importance of hero artwork